Everycare Medway / Swale – Client Enablement Case Studies
We have been caring and supporting people in their own homes for over 25 years and we have had some amazing clients along the way. You can read some of their stories below.
We listen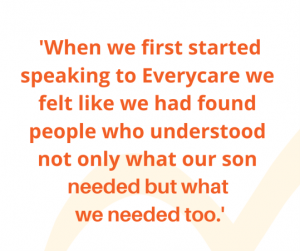 'Our son 'S' had a life-changing car accident ten years ago and is now living with the effects of a traumatic brain injury. As a result of the injury he has a very poor memory and has a very weak left side of his body so needs to use a wheelchair. Perhaps the hardest thing for all of us to cope with was his explosive temper, he just seemed so angry and frustrated all the time.
When we first started speaking to Everycare we felt like we had found people (note I use the word people not a company) who understood not only what our son needed but what we needed too.
Our two 'support workers' spend around 16 hours a week with our son and have proved invaluable beyond words. With their support' S' has been able to get back some of his independence, he has started regaining some of his confidence and has started to make friends with people at the lunch club.  'S' has become less angry as he has less frustrations and all of our lives have improved immeasurably.'
A consistent ethos that rolls through the organisation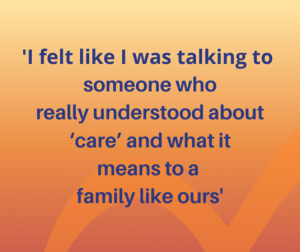 'I called Everycare when I was at the end of my tether with my daughters care provider who were constantly letting us down, turning up late, introducing new members of staff and generally making us feel that expecting a reasonable level of service was an unreasonable demand.
I called Everycare and they were really nice on the phone. Once I had explained our situation the lady I was speaking to said she would ask the Registered Manager to call me and that it should be within the hour.   Sure enough the Manager called me back and arranged to pop in to introduce himself the next day. He arrived (a few minutes early) and my daughter and I instantly took a shine to him. He was very gentle and kind. He spent over an hour with us chatting about the help we needed but he also spoke about the 'teething' problems that we could expect if we changed from our current agency to Everycare.
I felt like I was talking to someone who really understood about 'care' and what it means to a family like ours. A couple of days later our new carers popped in to introduce themselves and they were lovely too. It was really reassuring to see that the ethos of care runs through the whole organisation, it's not just sales 'patter' it's the way they are.'
A company you can live and die with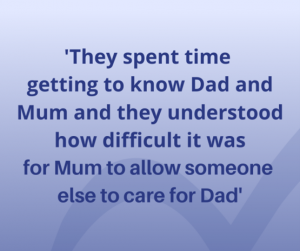 'At first we didn't associate Dad's depression or his inability to concentrate on any of his usual hobbies as a sign of anything more than general ageing. But, things came to a head one new year when it was obvious he needed to get help. His Huntingdon's diagnosis was a complete shock to all of the family.
As the condition worsened he developed severe OCD which made living with him extremely tiring for my mum. We spoke to a number of care agencies and although we had never heard of them, Everycare seemed to offer everything we needed and they had a really good approach to providing support.
They spent time getting to know Dad and Mum and they understood how difficult it was for Mum to allow someone else to care for Dad. As time progressed and Dad's physical and mental conditioned worsened they were able to change the way they cared for him. They seemed to instinctively know what he needed.
My Dad died last year and with Everycare's help he was able to stay at home till the end. We all miss him terribly but it has been lovely that Everycare has kept in touch with mum – they became much more than just Dad's care Company.