Everycare Cardiff – About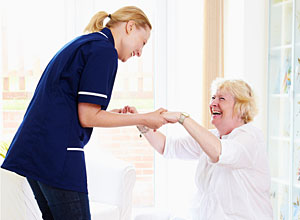 Everycare (Cardiff) Ltd has an excellent reputation built over 20 years of delivering the highest quality home care services to the people of Cardiff and the surrounding areas. All our services are supervised by qualified nursing staff.
We employ a strict recruitment policy which adheres to all national and local requirements.
We require all staff to have had an enhanced Criminal Records Bureau (CRB) check prior to employment and run regular training sessions to ensure that they are kept fully up to date with changes in the industry and with all mandatory training requirements. We also encourage staff to participate in additional training and personal development such as the NVQ scheme.
Care Testimonials
Here is what just some of our clients have said about us.
'Everycare have consistently provided an excellent service from the first day we have been having them. We are very happy with the carer and the service overall'.
Mrs B
'Pleased with the help I get from Everycare. I took Direct Payments to stay with your agency. Thank you; wish I'd have done it earlier'.
Mrs H
'We would like to say a huge thank you to all the staff and management at Everycare for the care that was provided to my dad in the last few months and for making it as comfortable as possible. Thank you for all the support and friendship you gave to the family'.
Mrs A
'We are very happy with our carers especially Debbie, she's always punctual and very supportive. Debbie is excellent and always goes that extra mile'.
Mrs I
'It is very helpful to have the same staff call to my husband each week. It gives my husband confidence and he enjoys their little chats'.
Mrs M
'I am very happy with the care that is provided to my daughter. Steph is wonderful with her she is so kind and helpful'.
Mrs W
Care staff are always on time and very support. They help me but at the same time promote my independence. Lovely friendly staff, very happy with the service.
Sarah G