Everycare Rugby under new management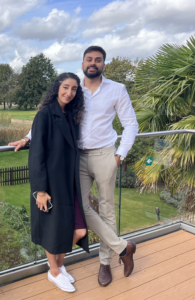 Our Everycare Rugby office is now under new management as new owners Kez and Nicole Chatha look to take this very successful office forward.
The couple are enthusiastic to see the care service in Rugby expand providing the very best quality of care to their existing and new clients. With a strong customer service background and a commitment to make a real difference to the care experience of their clients, they look forward to working within the Rugby community and enhancing the already excellent care service that the Everycare Rugby office already provides.
Everycare UK CEO Mary Cottrell commenting on the change said " It's great to welcome Nicole and Kez to the Everycare UK team. Their enthusiasm and drive to provide a great service to our clients in Rugby and the surrounding area is wonderful to see. I wish them every success in continuing to grow and develop the Everycare care services in Rugby."
If you would like to discuss your existing care provision or if you are looking for a new  care service then do not hesitate to contact them today.