Everycare Eastbourne – Home Care Services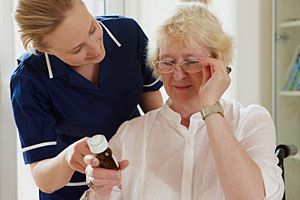 Home care (domiciliary care) services in Eastbourne, Brighton, Polegate, Hailsham, Pevensey Bay, East Dean and Friston areas
It's hard to know where to turn when someone you care about becomes less able to do all the things they used to do so well, like doing the weekly shopping, taking a bath, cooking a meal or doing some housework.
It's important to know that you're employing the very best people to look after your loved ones. People who will care for them just as well as you could, in the reassuringly secure comfort of their own home.
Often, all that will be required is a 'helping hand'. Or perhaps you're now looking for something more comprehensive, as a pragmatic and cost effective alternative to residential care.
Our home care or domiciliary care services are designed to offer a bespoke solution of the highest possible quality, allowing people who have health and social care needs to live at home in familiar surroundings, while providing them and their relatives with complete peace of mind.
Our range of services
We provide an extensive range of home care services which include:
    Personal and social care
    Housework  and meal preparation
    Bathing service
    Night sitter/Sleep-ins
    Rehabilitation and home from hospital
    Terminal care at home (palliative care)
    Alzheimer and dementia support
    Holiday packages
    Domestic services, such as laundry or shopping
    Companionship
    Prompting medication
Our objective is to provide the highest quality reliable service. We believe in the importance of service users receiving their home care from regular carers, not a string of different people arriving at different times. We also operate a 24-hour on-call service for our service users and staff to provide support to both
We are proud to work extensively with the local primary care trusts (PCTs) in delivering end-of-life care at home. This is an especially challenging area of care and staff receive specialist training to support them in this.
Everycare are an accredited supplier of home care services with East Sussex County Council.
Arranging care
Many people do not know who to turn to for help and advice if they need to arrange care at home either for themselves or a family member. Initially please feel free to call us on 01323 430762 and we can discuss your personal requirements. Alternatively you can complete our online contact form and we will call you back at a time convenient to you.
We often find that an initial phone conversation will help put people's minds at rest. It will answer many of your initial questions and it may well be that, as a result of our conversation, we direct you to other more appropriate services. However, should you wish to take matters further, we will be happy to offer you a free, no-obligation, home assessment by one of our Qualified Nurses or our experienced Care Manager.
An initial assessment will allow us to find out exactly what your individual requirements are and to carry out an initial risk assessment of your premises. We can then construct your personal care plan based on our discussions. This allows us to ensure that you receive the care you want, at a time that is convenient and with continuity of care staff.
*Please note that we only supply domiciliary care services in the Eastbourne, Polegate, Hailsham, Pevensey Bay, East Dean and Friston areas.