Dementia fears are real concern for majority.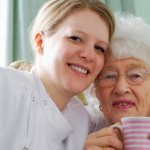 We're more scared of getting dementia in old age than any other disease such as stroke, cancer and heart disease
More people fear dementia than stroke or heart disease, a survey found
Some people say the results show people are talking about dementia
People worry they won't be able to afford to care for their elderly relative 
Care for dementia sufferers can cost from about £750 to £1,400 per week 
The Live-In Homecare Information Hub, a coalition of 13 of the UK's leading home care companies said: 'For decades, dementia in all its forms was the great unspoken.
'But thanks to people like author Terry Pratchett, who has been very open with his personal experiences of the condition, people are far more willing to talk openly about it". To find out more check out the full story on the Daily Mail website.