Everycare Central Surrey – Care Training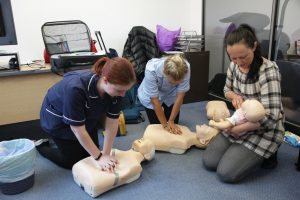 Care training in Guildford, Leatherhead, Woking and Central Surrey.
We provide opportunity, nurture and develop care workers and reward achievement. We believe a team of well-trained care workers working together in an enjoyable environment fostering respect and driving a high level of engagement, is essential to our continued success.
At Everycare (Central Surrey) we want to create a home care service for the broad range of people who require care at home. Our ambition is to remove the worry from family and friends who are concerned for the welfare of their loved ones.
To achieve this, we put people at the centre of everything we do, and that applies to our care workers as much as our clients.
Many different qualities make a good care workers; having a caring nature is just the start.
We know people do well when they feel fulfilled in their employment, so we go all-out to create the right working environment for our care workers. In achieving the best working experience we know we will provide the best care for our clients.
Our care workers not only become part of one of the most respected home care organisations, but are part of a family run business which has care at its heart.
Our care workers come from all walks of life,  but they share a common approach: a positive one. When recruiting new care workers, our policy is to 'hire the smile'. We know if we have people who have a natural smile we can help them to become highly professional care workers who can make a big difference to the lives of the people in their care.
But it's not just about hiring happy people. Caring is not just another way of earning a salary and we also look for people who want to make a difference. When these two qualities come together we know we can help you develop as a professional care worker.
Caring is one of the few professions offering truly flexible working hours you can fit in with the other aspects of your life. Whether you want to work a few hours one day a week or work full time; we can offer you that flexibility.
We also encourage all our staff, where appropriate and desired to work towards their QCF (Qualification and Credit Framework) and attend external training courses, completing further development courses as necessary for their roles within the company. We advise staff about training on an individual basis during their regular supervision sessions.
To find out more please call the office on 01483 536266.
To find out more about our training and development, view our brochure on our about us page. Or call the office on 01483 536266.