The Advantages of a Live-In Carer in Bristol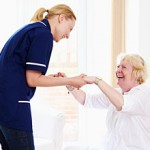 Care-recipients often prefer staying in the comfort of their own homes for as long as possible, but this can present them and their families with a challenge when it comes to providing round-the-clock care. Live-in carers can help you to retain your independence and enjoy a greater quality of life without the upheaval of moving into residential care, and they can be there for you twenty-four hours a day, seven days a week, providing specialist help whenever needed. Here are some of the benefits:
Independence
A major concern for those going into residential care is a loss of independence. Routines are often disrupted, and this can impact on the care recipient's ability to do things for themselves. A live-in carer can help you to complete basic tasks, providing an extra pair of hands for those day-to-day chores while still allowing you as much independence as you desire.
Peace of Mind
Friends and family often worry about those who need specialist care but live alone. The presence of a live-in carer, as well as providing assistance to the care recipient, is often a great comfort and reassurance for loved ones.
A Personal Relationship
Though they provide an excellent service, care homes allow their residents significantly fewer opportunities to develop one-to-one relationships with carers. A live-in carer has only one person to assist, and that's you! As well as providing care recipients with a familiar face, it also enables carers to tailor their routine to suit your individual needs on a day-to-day basis.
For those living with conditions such as dementia, Parkinson's or multiple sclerosis, having a live-in carer can provide a much-needed sense of stability, which is greatly beneficial to their well-being and health.
Flexibility
Entering into residential care is often a permanent move for many care recipients. Live-in carers can be assigned on a short or long-term basis, providing care only for as long as it's needed. Our carers can be assigned following a stay in hospital or through periods of ill-health, and we're usually able to provide care at very short notice.
Staying Together
For couples, a live-in carer can mean the difference between them staying together and having to spend time apart while one of you is being cared for. Separation is an upsetting experience for anyone, particularly older couples, but a live-in carer can be there for one or both of you, living under one roof.
Time Out
Having said that, all couples with care needs know there will be days when one of you may need a little "time out", either to spend time alone, go shopping, or visit friends. Live-in carers help to share the responsibilities of care, freeing up some of your time and giving you a greater sense of autonomy.
Costs
Many of our live-in care options are competitively priced compared with residential care. Having a full-time, one-on-one carer is a cost-effective alternative to the upheaval of you or a loved one moving into a care home.