Location: Oxford including Kidlington, Yarnton, Witney, Bicester, Banbury, Woodstock, Chipping Norton, Didcot, Abingdon, and Henley.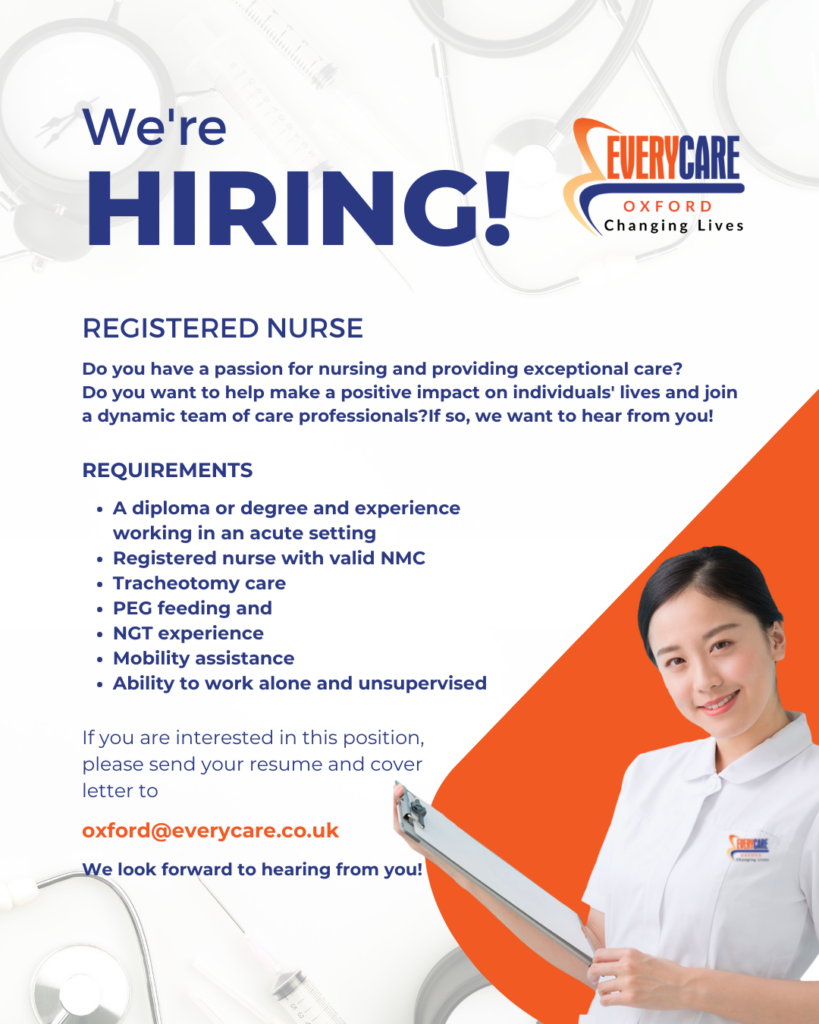 Registered Nurse – Complex Care
We are currently looking for a registered nurse with a diploma or degree and experience working in an acute setting. The candidate will be responsible for providing exceptional care for one of our clients within their home environment. The ideal candidate will be flexible and be able to commit to a permanent full-time or part-time role and work closely with our Care Coordinators to deliver provide care to help improve service user's quality of life by ensuring their needs are met and that each person is always treated with dignity and respect. The following requirements listed below are mandatory:
Ideal Experience Required
Registered nurse currently registered with the NMC.
Experience working in an acute setting.
Experience working with a client with a tracheostomy; this includes care of and change of a tracheostomy.
Experience in looking after clients with NGT and or PEGs. Care includes management, troubleshooting and checking PH as per protocol before use or after vomiting or coughing.
Experience with chest auscultation, nebulisation and medication administration
Use of overhead hoists and able or willing to learn the required moving and handling techniques, and use of and how to propel client's motorized wheelchair
Bathing, personal care, chest and limb physio, ability to do social activities.
Full UK driving license – preferred but not mandatory.
Right to work in the UK.
Clean DBS and 2 suitable references.
Essential Qualities
Commitment to providing the best possible care for the client.
Caring and compassionate in nature.
Warm and friendly.
Able and fit enough to provide one to one very hands-on care.
Ability to work in a team.
Preferable previous experience working with complex clients within a home environment.
Willingness to learn and develop themselves.
Good reporting and documentation skills.
Good communication skills.
Basic IT skills or able to use electronic record systems.
Impeccable initiative and able to be highly adaptable.
Flexibility with shifts and availability though set shifts up to 12 hours preferred.
Why Join Us
Competitive pay rates
Paid annual leave
Flexible Working
Specialist in-house and field-based training
Free DBS Checking
Workplace Pension
Enhanced pay on bank holidays and selected shifts
If you meet the requirements and have a passion for providing exceptional client-centred care, apply now. Please send in your resume and include a cover letter explaining your relevant experience and why you would be a great fit for this role.
We thank all applicants for their interest, however, only shortlisted candidates will be contacted for interviews.
Contact us at oxford@everycare.co.uk
01865 778330
Contact us at oxford@everycare.co.uk