Award winning home care at Everycare Wirral
The Homecare Awards highlights the top 20 most recommended home care providers in each of the 11 regions throughout the UK.
The Awards are based on thousands of independent reviews, from the most important people, our clients. Clients who have experienced, evaluated and appreciated the individually tailored care services that we provide. The recognition from these independent reviews is important to us, they show us that we are achieving our goal, which is to provide outstanding and genuine care within our community. We are dedicated to provide the highest quality of Client services, delivered with a sense of warmth, friendliness, individual pride and Company Spirit.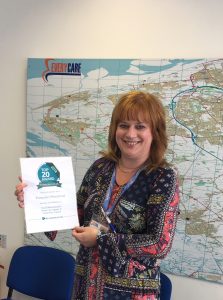 Everycare Wirral's Registered Care Manager Dawn Macdonald was thrilled to receive the acknowledgment of this award and is immensely proud of her Professional Care Assistants, "whose consistent hard work and dedication to providing a fantastic level of care has allowed their Clients to live their lives to the fullest.
There is no better recommendation than from the people who use our service, each and every day. We also realise how much reviews can help when people are looking for care for a loved one and they can trust that these are genuinely, honest reviews.
We are honoured to be rated by our Clients within the top 20 care providers in the North West of England and will endeavour to continue providing a high standard of care for our clients."