Home care in Bristol – assisting your independence at home.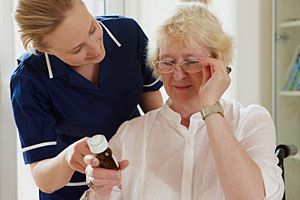 Some Tips on Maintaining Independence at Home

Whether or not you are receiving any degree of homecare, maintaining your independence is a major challenge for many elderly people and those with reduced mobility. Doing things for ourselves and even just getting around the house on a day-to-day basis can be very difficult, so here are some suggestions for how you can remain as active and independent as possible while at home, whatever your circumstances.
In the Bathroom
As anyone with mobility problems will tell you, bathrooms can be very daunting places, but there are some simple steps you can take to make them safer and more user-friendly. Installing easy access showers, handrails and grab rails can make getting in and out of the shower or bath and getting on or off the toilet that little bit easier.
Non-slip mats, both in the bath and on the bathroom floor, will drastically reduce the chance of any nasty slips and falls. And in a worst case scenario, an alarm cord can offer added security and let you get help quickly, should you need it.
In the Bedroom
One of the main reasons many care recipients choose to remain in their own homes is the familiarity of their surroundings. We like to be surrounded by our favourite things, and we like to sleep in our own beds.
That said, it may be time to think about investing in an adjustable bed, one that allows you to sit up without having to rely on a mound of pillows, and lets you get in and out of bed with ease. Many adjustable double beds even allow for different settings for you and your partner or spouse, letting you both sleep comfortably.
Strategically situated support rails can be an enormous help, but a bedroom commode is often much more convenient than navigating your way to and from the bathroom in the middle of the night.
In the Living Room
Similarly, there are one or two very minor changes you can make to the living room that will make it that little bit safer for you without dramatically changing your surroundings. Adjustable armchairs are a great idea, along with lifting seat cushions to help you get up and down with minimal effort. Larger light switches are less fiddly and easier to turn on and off than standard switches, which is particularly useful if you are living with arthritis.
It may or may not be situated in your living room, but a large button telephone is also useful, particularly if you need to dial a number in a hurry or in an emergency.
In the Kitchen
Being able to cook for ourselves is one of the greatest tests when it comes to independence. There are plenty of adapted cooking, eating and drinking utensils on the market that let you do just that, even when your mobility is quite seriously impaired. Perching stools or utility seats are also useful, particularly when preparing meals. And opening tins and other packaging is made much easier – not to mention safer – by a wall-mounted tin opener.