Everycare Rugby and Warwickshire win a 2020 Top 20 Home Care Provider Award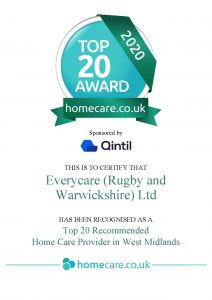 We are delighted to have won the 2020 Top 20 Home Care Provider Award from homecare.co.uk.
This is the 2nd year in succession we have won and it is thanks to our hard working and caring staff that has made this possible as well as our clients for the positive reviews which they have taken the time to write. During these uncertain times, it is even more special to be recognised for the hard work that our team puts in 365 days a year, come what may.
Everycare provide home care, overnight care and live in care services to the people of Rugby and the surrounding areas.