UK's leading home care and nursing provider launches new corporate branding – Everycare "Changing Lives"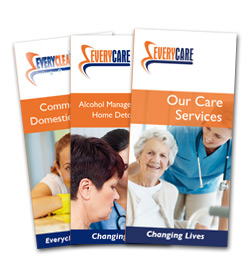 Following a strategic review of its nationwide personal home care, domiciliary care and healthcare staffing services, Everycare has launched a new branding initiative which has seen the redesign of both its website and company information brochures.
Mary Cottrell, Managing Director of the company, commenting on the new branding said "After 20 years in business the time was right for us to review our current image and to ensure that the messages we give to both existing clients and prospective new clients were both clear and informative, whilst at the same time ensuring the look and feel of our company brochures and website portrayed what we provide – a exceptional quality care service which responds to the needs of our clients.
Our staff provide a caring and enthusiastic care service and we believe very strongly in our ability to provide individuals with support and care that makes a real difference. I believe that the "Changing Lives" motto that we have adopted through this rebranding initiative portrays very clearly the objectives we adhere to when providing personal care solutions to our clients."
Everycare UK has been assisted in the launch of the new website and in the new corporate branding by Cardiff based Marketing consultancy – Stepping Stones Marketing Solutions.