Care in the home – Fall Prevention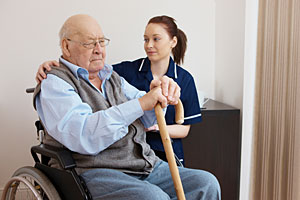 Fall Prevention – A Quick Guide for caring at home

Whether or not you're receiving home care, falls, slips and bumps are a major concern, especially for the elderly or those with older loved ones who live alone. Even within the home, a nasty fall can result in serious injury, impacting upon mobility and independence, not to mention well-being.
With that in mind, we've put together this quick guide, featuring a few useful tips on how you can reduce the chance of slips and falls around the house.
Rugs
Many modern homes have either wooden or laminate flooring along with loose rugs, but this can be a particular hazard, especially for those with restricted or reduced mobility. Make sure to place non-slip grip sheets beneath any rugs you have, even when they're on carpets.
Bathrooms
Similarly, bathroom and kitchen floors can become very slippery when wet. Be extra careful when kitchen floors have been recently mopped, and use non-slip matts in the bathroom.
Install Hand Rails and Grab Bars
Hand rails are a simple and unobtrusive addition to the home, but they make getting around the house so much safer. Many falls occur either on staircases or when we're trying to get up or sit down, getting on or off the toilet or getting in and out of the bath.
Declutter
Stacks of newspapers and magazines, doorstops and ornaments can be a major tripping hazard, particularly if they're left near doorways or on stairs. Declutter your floor spaces, especially in any places where they could cause a nasty fall.
Proper Lighting
Many slips and falls occur when a room or passage isn't properly lit. It's all too easy to miss a step, or trip over something that can't be seen in poor light. Make sure all hallways and stairwells are properly lit and install brighter bulbs if necessary. It may also be a good idea to install nightlights in bathroom areas, to make night-time trips to the loo that little bit safer!
Avoid Loose Clothing
Comfort is one thing, but long, loose garments that can bunch and drag around your feet – for instance, dressing gowns and nighties – can become a tripping hazard.
Wear Shoes or Gripper Socks
Even on carpeted surfaces and stairs, socks can be slippery. Obviously, not everyone wants to wear shoes around the house all day every day, but fortunately you can buy warm non-slip "grippy" or "gripper" socks, allowing you to get around the house more safely without sacrificing your comfort!
Take it Slow
It can be very tempting, in our later years, to try and keep up the pace we did half a lifetime ago, but while keeping active is very important, staying safe is essential. Don't overdo things. Take your time, and be especially careful when climbing stairs.
Eat Properly
So far, the advice we've giving has been mostly practical tips about your home and how you get around it, but if you're elderly and living with a condition such as osteoporosis, a proper diet is every bit as important as a well-lit stairway or a decluttered hall! Regular meals rich in calcium and vitamin D are essential for looking after your bones, keeping you fit and mobile and – most of all – safe!
If you are looking for home care in the Bristol and surrounding area please call us today at our Fishponds, Bristol office on 01179 586 235.