Care at home – with access to the community in Rugby and Warwickshire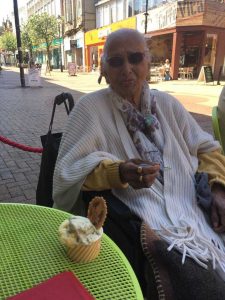 Here at Everycare Rugby & Warwickshire we strongly believe in assisting our service users to continue to safely access to the community, without the worry or concern that they may come into difficulties doing so.
This is Sitaben who is 96yrs young enjoying her day out with full support from her main carer Kiran. They enjoyed lunch out at a local pub where they were joined by her Sitabens daughter, then they went into town to an ice cream parlour to sample the ice cream, this was a totally new experience for Sitaben.