Alzheimer's Society report too many delay seeking dementia diagnosis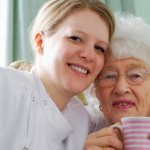 More than half of those seeking a diagnosis for dementia have delayed going to their GP by at least a year, according to a survey carried out by the Alzheimer's Society.
The charity says nearly two-thirds of people fear a diagnosis would mean their life is over.
But it says an early diagnosis can actually help people to live as well as possible.
And it wants everyone to confront head-on the challenges posed by dementia.
In a survey of 2,000 adults, almost half thought they would have to stop driving immediately while one in five feared losing their partner or friends if they were diagnosed with dementia.
Nearly 60% thought they would struggle to join in conversations and almost half worried people would think they were "mad" if faced with a diagnosis.
But the charity said these myths about dementia were stopping people from getting the best possible treatment and also preventing them from planning for the future.
To read more visit the BBC Online website