Alzheimer's Society ambassadors recognised in New Year Honours list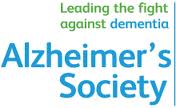 Two leading figures supporting the Alzheimer's Society have been honoured in the New Year Honours list.
Actress Lynda Bellingham (famous as the Oxo Mum!) has been awarded an OBE in recognition of the charitable work she has done for the charity during the seven years she has been its ambassador.
A British Empire Medal (BEM) has been awarded to 72-year-old Trevor Jarvis who was diagnosed with vascular dementia in 2001 and has since gone on to be an influential member of the Prime Minister's Challenge on Dementia. He has been recognised for his work promoting dementia-friendly cities.
In addition to the above Welsh actress and supporter of Alzheimer's Society Ruth Jones was awarded an MBE for her work in the entertainment industry. Miss Jones has spoken out about her own family experiences with dementia.