Quality care service cannot be delivered with 15 minute visits!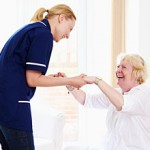 Unacceptably short 15-minute home care visits to elderly and disabled people are still plaguing the care system in England, a report suggests.
Research by Unison found "distressing" cases of care being compromised after surveying councils and care workers. Councils are not meant to schedule 15-minute visits for personal care, like help with washing, dressing or eating. But the union said its findings showed many were still doing just that despite repeated calls for longer visits.
Ministers have been demanding councils which are in charge of care services stop using the so-called "flying visits".
Everycare is pleased that we have never done 15 minute calls as we have always believed you cannot deliver any form of quality care in that time.
To read more about this story visit the BBC news website.