2018 Christmas Party – It's beginning to feel a lot like Christmas!!!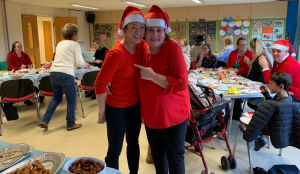 Kicking off the festive season, Everycare Central Surrey enjoyed too many pigs in blankets and mince pies.  It was so lovely to see so many people (from 13 months to 102 years old)!  Christmas hats and Christmas jumpers were out in full force.  Even a dancing, singing hat made a special appearance.
Thank you so much for everyone's help preparing for the party and during the party.  It was very much appreciated.  We would like to say a special thank you to Paula Wickens, our very own cake baking queen, who made over 40 Christmas cakes for all our clients.
Thank you to all our clients and staff for making Everycare Central Surrey such a wonderful company.
Check out the video on our Facebook page – Click here
MERRY CHRISTMAS AND A HAPPY NEW YEAR!!!!